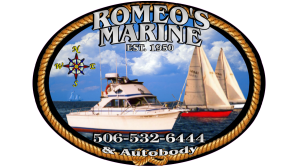 "In memory of Hubert Marcoux …"

This page is dedicated to a friend that came to visit our shop.
A true adventurer lost at sea after leaving with his boat for the island of Bermuda.
Most importantly very nice man to talk to, he had lots of interesting stories.
If you can find his book called "Marcoux, Hubert; Around the World in 18 Years"
Self Published 2005, a great read. If you like reading about adventures at sea, it is a book to get, a worthwhile read.
The Preface of his book:
"Few of us have the courage or the temerity to drop everything
to realize our dream of adventure, to go beyond ourselves or
simply to live a life other than the ordered, sterilized model
of our modern world."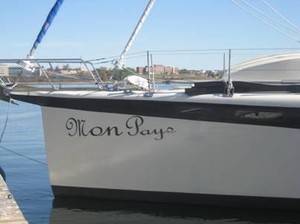 Solo Sailor Presumed Lost
November 25, 2009 – Halifax to Bermuda "Hubert Marcoux, a 68-year-old French Canadian solo sailor aboard the 45-ft Mon Pays, is presumed lost on his voyage from Halifax to Bermuda," writes Jack van Ommen of the Gig Harbor, Washington-based Naja 29 Fleetwood. Van Ommen's boat is currently wintering in Amsterdam more than halfway through his wayward circumnavigation. Hubert Marcoux never made it to Bermuda.
Photo Courtesy The Marcoux Family© 2010 Latitude 38 Publishing Co., Inc.
Details are still sketchy.
Did Mon Pays have a liferaft? Why didn't the EPIRB go off, assuming he had one? Was he able to send a distress signal from his SSB radio? There should have been plenty of warning of the possible track/influence of the remnants of Hurricane/Tropical Storm Ida on November 5.
The Departure.
Mon Pays departed Halifax on November 9. "Update: I just received the following from a weather radio operator asked to help in the search. I asked if he thought the presumed loss could have been prevented. He told me, 'The skipper only had VHF — no liferaft, no EPIRB. My analysis suggested that by the 12th he would have hit easterly storm force conditions near the Gulf Stream, which would have continued for five days. This would have made it hard or impossible for him to make any progress towards Bermuda.
The Search.
The Canadian and U.S. Coast Guard sent out three aircraft but found nothing.' "For an 'experienced' sailor, I find it incredible that had no HF radio or satphone, no means to obtain weather info, no EPIRB, no liferaft. So yes, I think this presumed loss could have been prevented."
We think van Ommen is right.
– latitude / rs – http://www.latitude38.com/lectronic/lectronicday.lasso?date=2009-11-25&dayid=356#Story2
His Book : Marcoux, Hubert ; Around the World in 18 Years
Here is another interesting read if you are interested in Hubert Marcoux :
Family sure N.S. sailor survived 10-meter waves
Man goes missing on course for Bermuda.
Edmonton Journal
21 Nov 2009  LINDA NGUYEN
(From the article above if the link does not work in your browser:
https://www.pressreader.com/canada/edmonton-journal/20091121/281578056749663)

Hubert Marcoux, 68, left Halifax for Bermuda on his boat on Nov. 9 and has not been seen since.
The family of Canadian sailor Hubert Marcoux, who has been missing for days somewhere in the Atlantic Ocean, was confident Friday he survived a series of storms described by some to have winds gusts of more than 110 kilometers an hour and waves measuring 10 meters high.
"I'm not worried at all," said Marcoux's sister, Lucy Milroy on Friday.
"I'm very optimistic that he's in the middle of the ocean and because of the bad weather, he changed his sailing plans and that he's OK. I'm just waiting to hear the good news."
Marcoux, 68, left Halifax on his 13-meter sailboat, Mon Pays, on Nov. 9.
The sailor, who has nearly 20 years of experience and has authored a book about his travels, was bound for Bermuda.
Milroy said her brother was planning on spending the winter docked on the island in his boat.
"When hurricane Juan hit this area (in 2003), it damaged his boat. It took him six years to repair it," she said. "So going to Bermuda was just a way for him to go to warm weather and live on his boat."
He had notified officials with the Joint Rescue Co-ordination Centre (JRCC) in Halifax about his trip and had asked them to send a search party if he didn't arrive on the island by Wednesday.
Lieut. Edward Stansfield with the JRCC said that Marcoux probably did not anticipate sailing through extreme weather conditions and most likely had to spend four days on the helm of his boat to survive the storms.
"He was by himself and he would've seen some incredibly rough seas," said Stansfield. "About four days in the middle of his journey he would've seen winds in excess of 60 knots."
Stansfield described the North Atlantic as being frigid during this season.
"The survivability rate is limited to hours," he said.
Four military aircraft, including two Hercules planes, an Aurora, and a Falcon plane from the Department of National Defence and the U.S. Coast Guard were scouring the now-calm waters closest to Bermuda Friday for any sign of the man's boat.
Search crews have been attempting to contact the man via radio for the last three days.
"It certainly would have been a harrowing experience sailing in this weather on his own," he said. "It would've been an incredibly daunting situation to be in. I would think he went into this fully knowing the risks."
Marcoux's sailboat is equipped with a dinghy, a radio, a GPS, and food supplies. It did not have a satellite radio.
Another boat leaving Halifax the day before the Mon Pays with a course set for Bermuda recently arrived on the island four days late.
Stansfield said this boat had three sailors, but still provides hope the missing Canadian man is still alive.
"Speaking to the three individuals who were on the other sailing vessel, they described the seas as outrageous. It was bad enough for three to keep afloat. With one (sailor), it's just unbelievable," he said. "We figured he made it halfway before getting into the rough weather. It's still possible he is fine. He could be found."
Lucy Milroy said her brother has survived many dangerous weather conditions while on his boat. He spent 18 years sailing around the world and completed a solo trip from Australia to Halifax in 2003.
Marcoux also has a brother in Montreal and a brother in New Brunswick.
A spokesman with the U.S. Coast Guard said they were in negotiations to take over the search if the sailor was not found by the end of Friday.
Bermuda is located 1,225 kilometers from Halifax.
Links to other websites
Our website may contain links to other websites of interest. However, once you have used these links to leave our site, you should note that we do not have any control over that other website. Therefore, we cannot be responsible for the protection and privacy of any information which you provide whilst visiting such sites, and such sites are not governed by this privacy statement. You should exercise caution and look at the privacy statement applicable to the website in question.